WELCOME TO DAUZ
the best-kept secret in the electronic drum industry. For over 35 years, we've been making quality drum pads for the most demanding professionals and the biggest tours. Our products are not sold in your local store next to Roland, Yamaha, Alesis, etc. Our cosmetics, flexibility, durability, and proven track record far exceed that of any other drum pad you have seen in the past.
While not a big corporation, Dauz products dwarf the offerings of the larger companies. We cater to the most educated performers who know what to look for in an instrument destined for continuous abuse. These pads will last you a lifetime, and are a joy to play. Join the Dauz family and you'll be in the company of some of the most famous drummers.
SOLID REPUTATION PROVEN HISTORY
Dauz has a recognized leader in top-quality electronic drum pad manufacturing for professional players since 1985.
MADE IN THE U.S.A.
Every Dauz drum pad is manufactured in Southern California by Americans. No cheap imported stuff here. We use only the highest quality materials.
BEST RUBBER FOR YOUR STICK
Our resilient gum rubber provides a quiet response and a natural rebound. Dauz pads are durable, they look good, and they feel great.
ACCESSIBILITY AND MOUNTING
Dauz drum pads mount from the bottom using a swivel stem ball and socket mount for maximum positioning flexibility. This allows for clustering pads together or mounting a single pad in tight places on an existing kit.
STYLE AND INNOVATION
Dauz pads are available in many styles and custom colors, with both single and double-mounting options. Our special Bone rim attaches directly to the rim of any drum from 8" to 18".
USED ON THE BIGGEST TOURS
Dauz's road-tested pads have been played by Pink Floyd, Rush, Yes, ELP, Nine Inch Nails, KMFDM, Jethro Tull, Spice Girls, Michael Jackson, Madonna, Paul McCartney, Janet Jackson, Whitney Houston, Phil Collins, Annie Lennox, Heart, Billy Idol, The Village People, Justin Timberlake, Bebe Rexha, Machine Gun Kelly, Black Bear, TLC, Mary J Bleige, Collie Buddz, J-Lo, Stevie Wonder, Queen Latifa, Kelly Clarkson, Platinum Blonde, Pink, Lauren Hill, Damion Hall, Guy, Eminem, Lil Wayne, John Mayer, Gwen Stefani, Lorde, Jack White, and many more.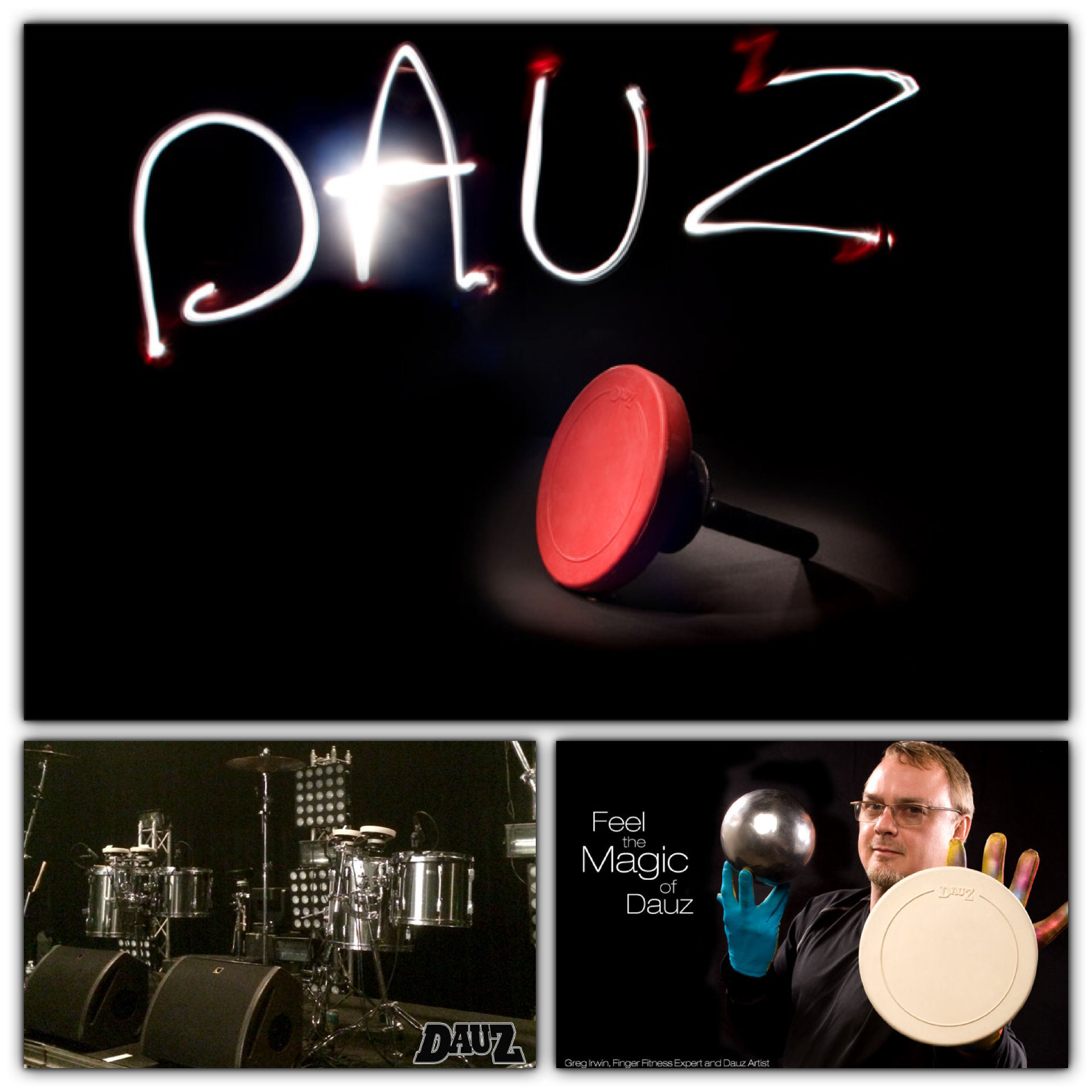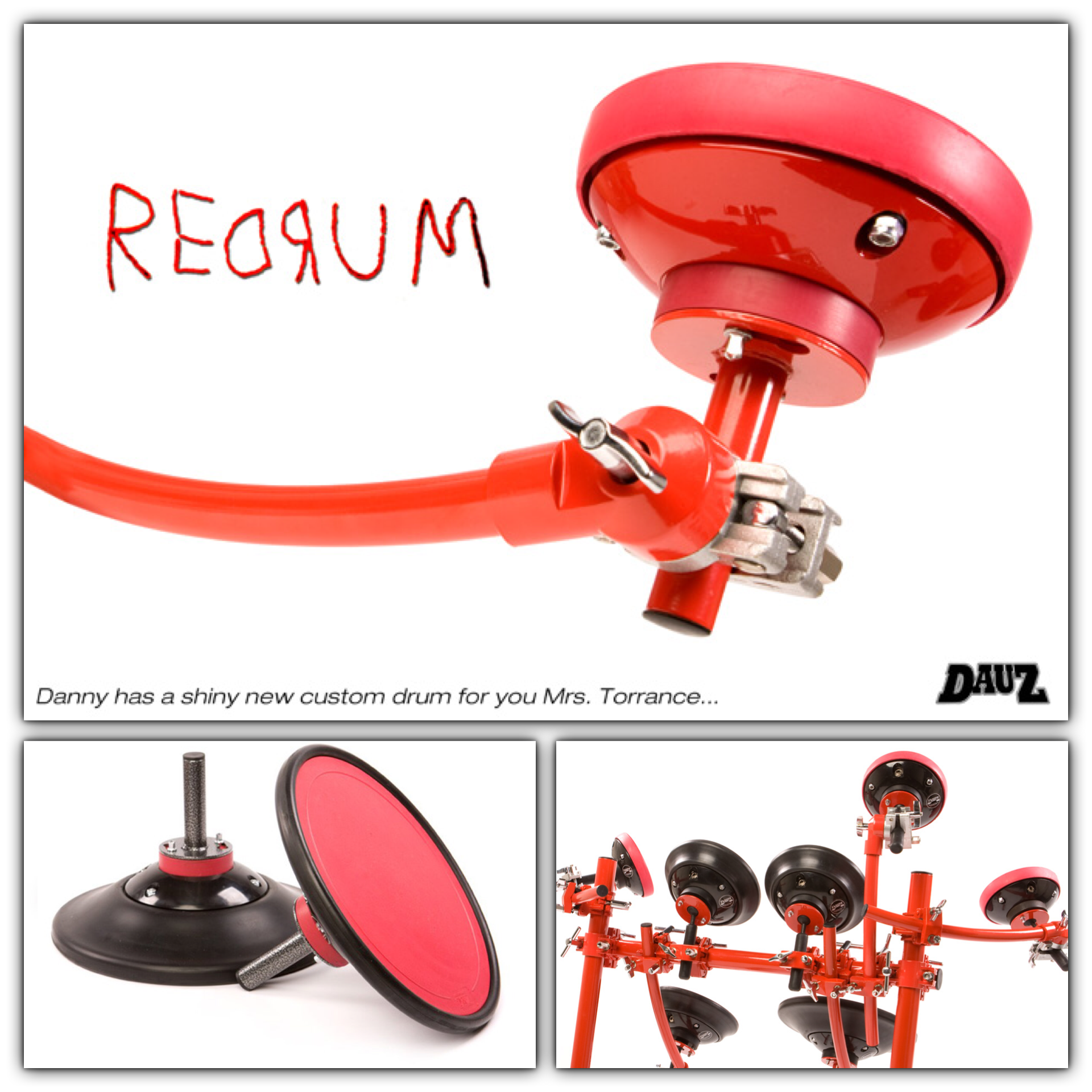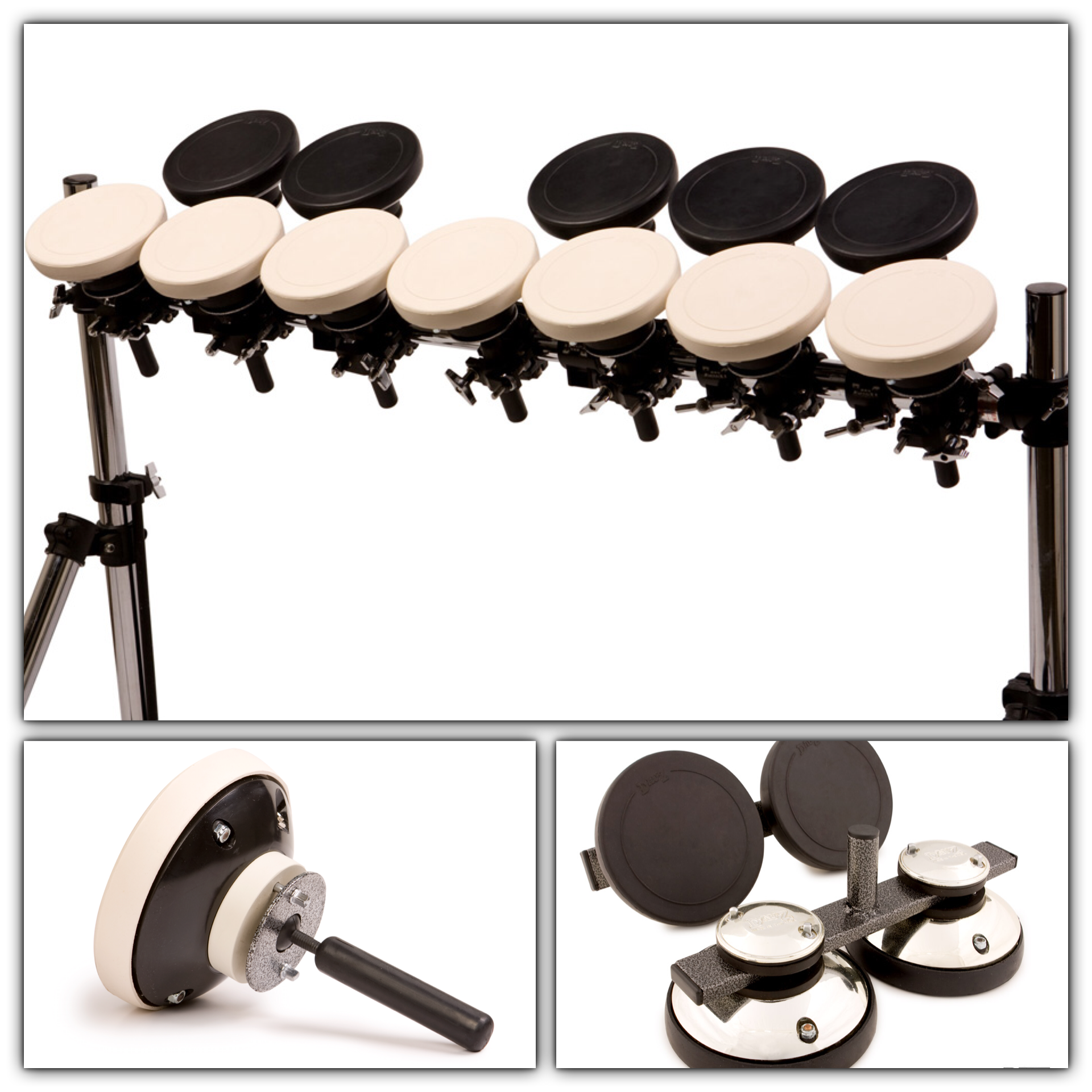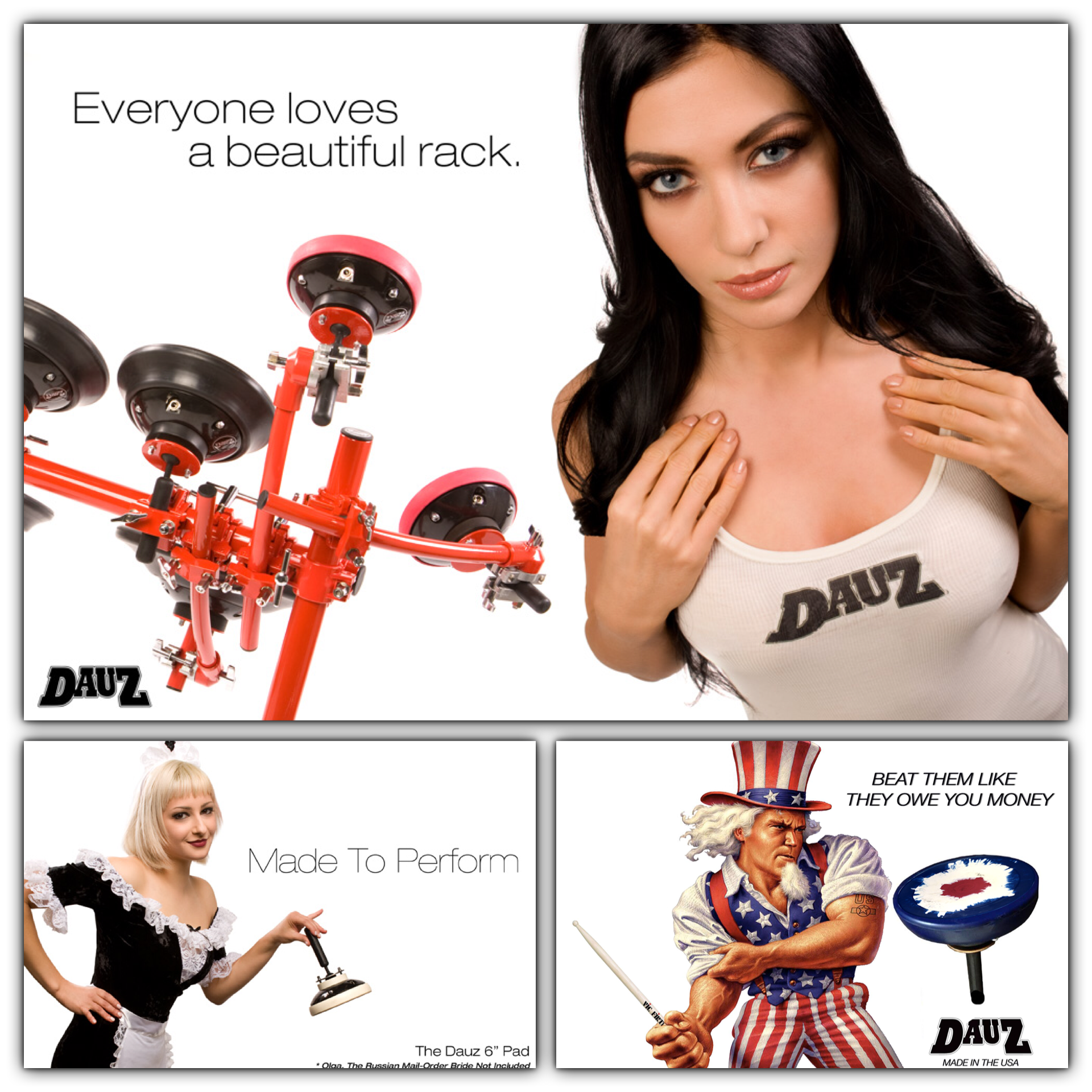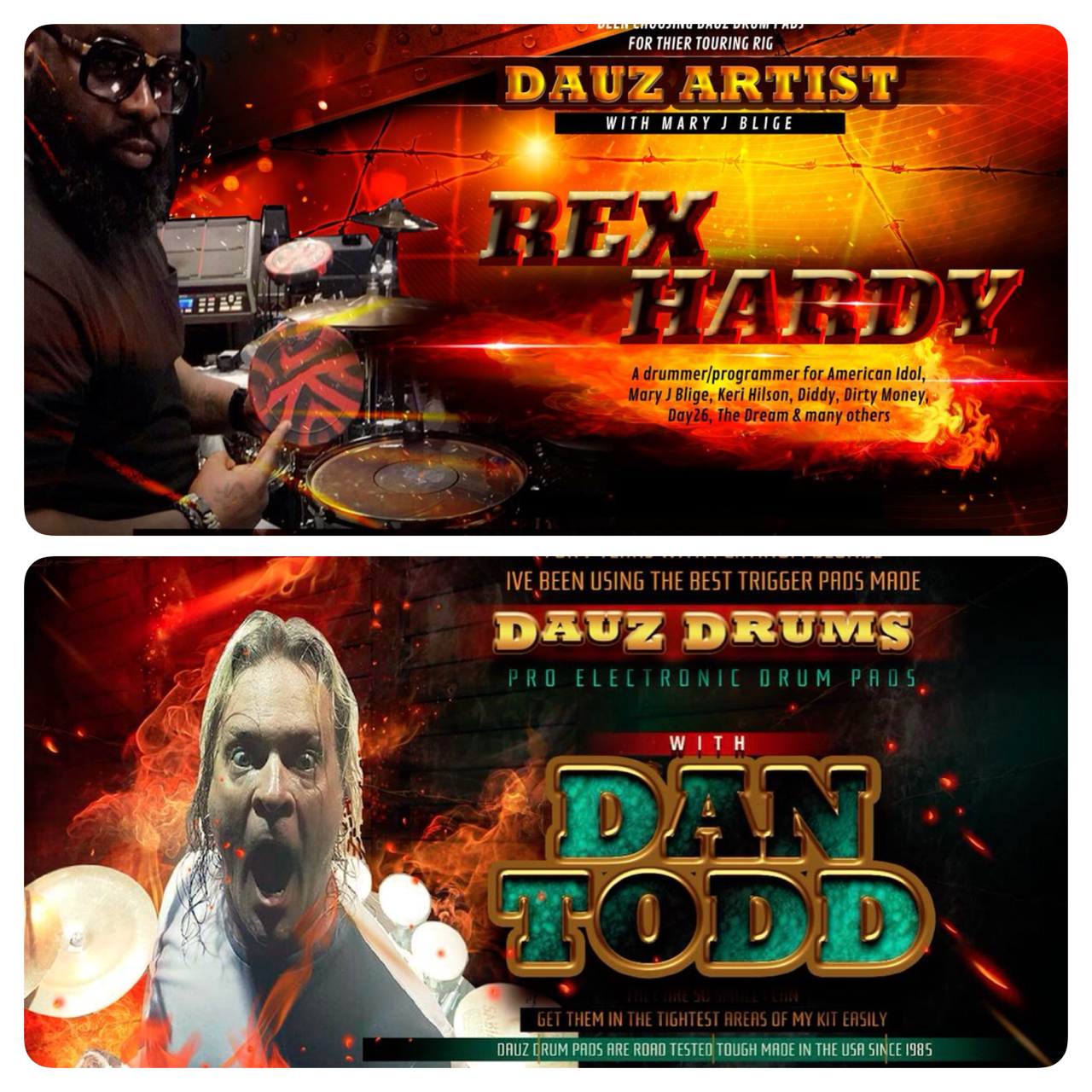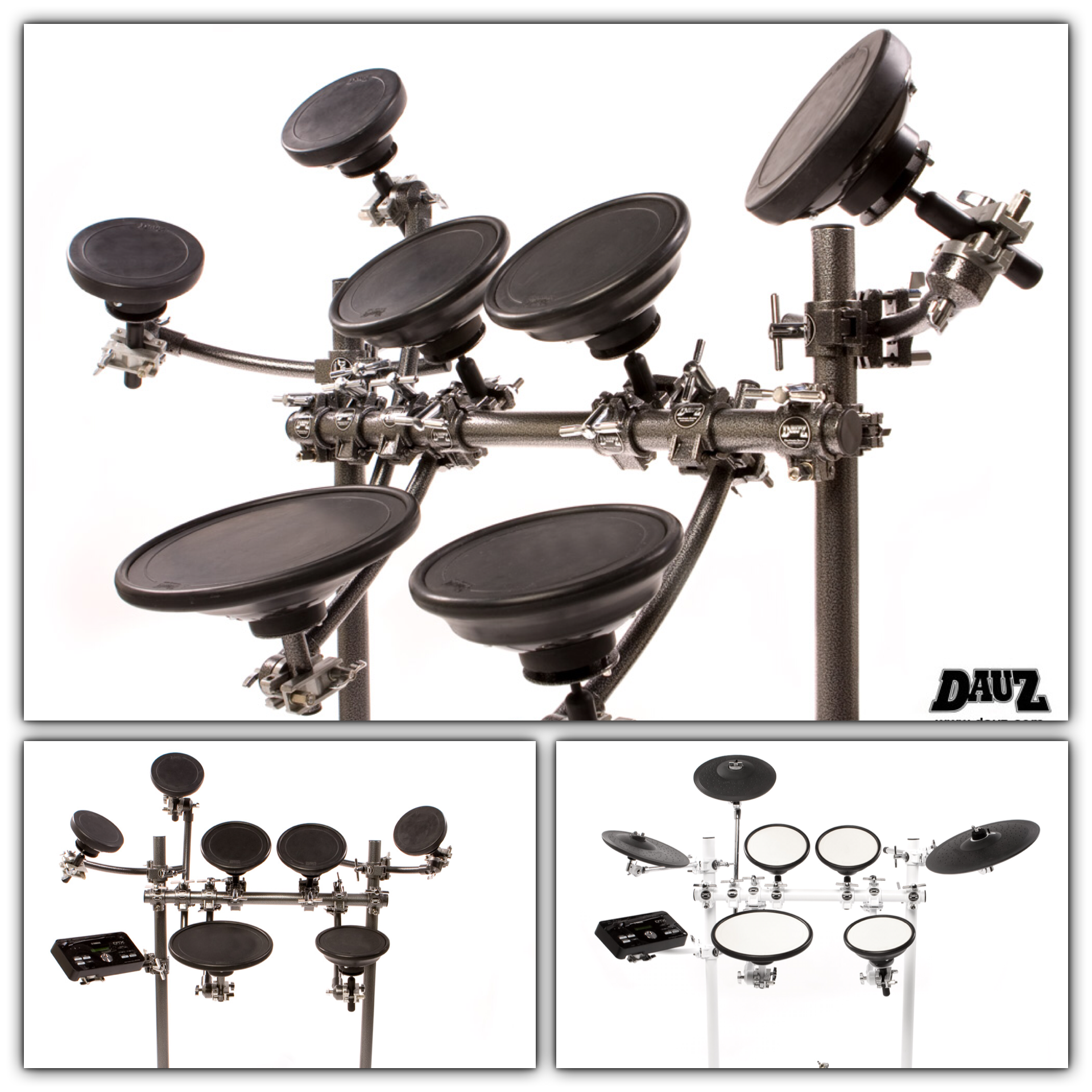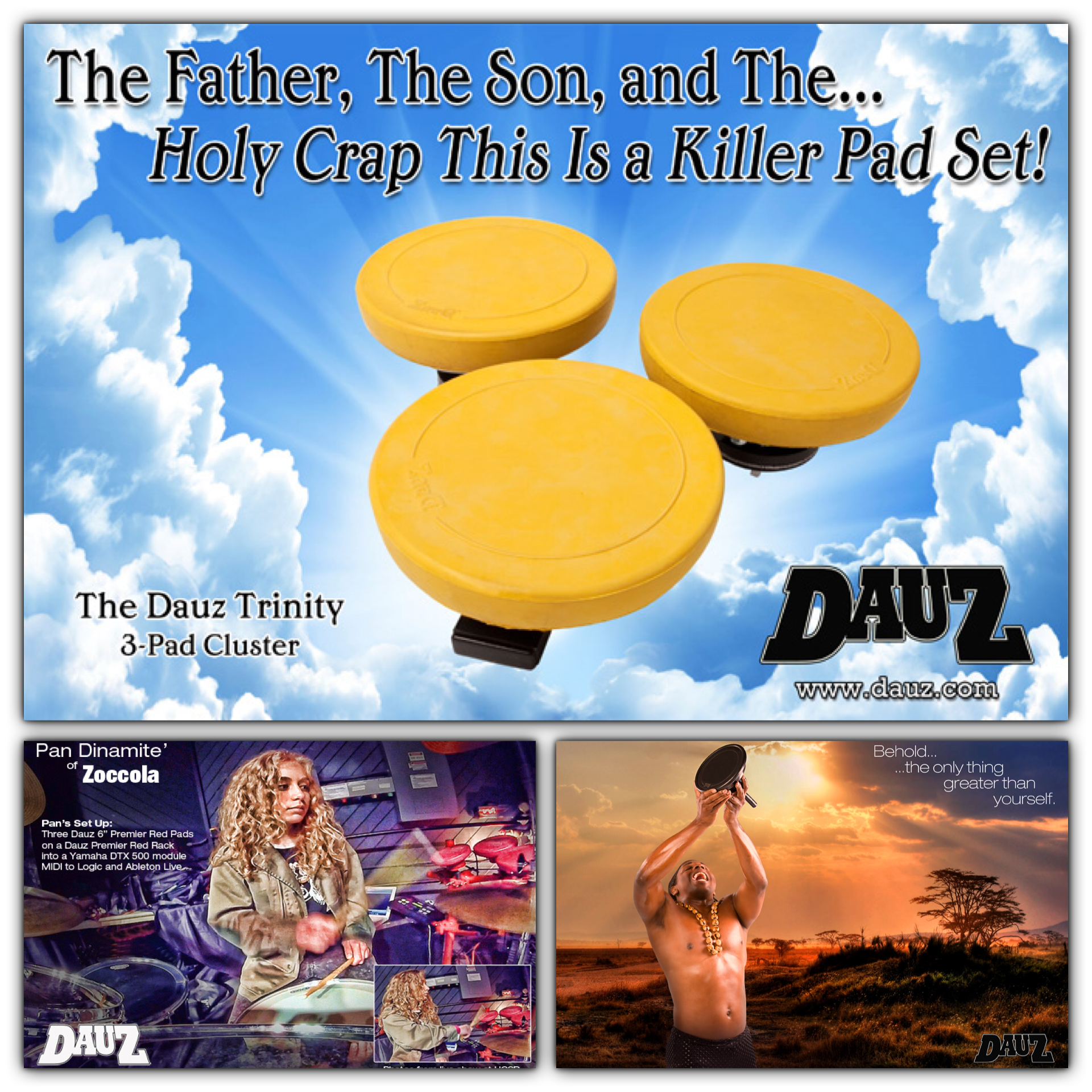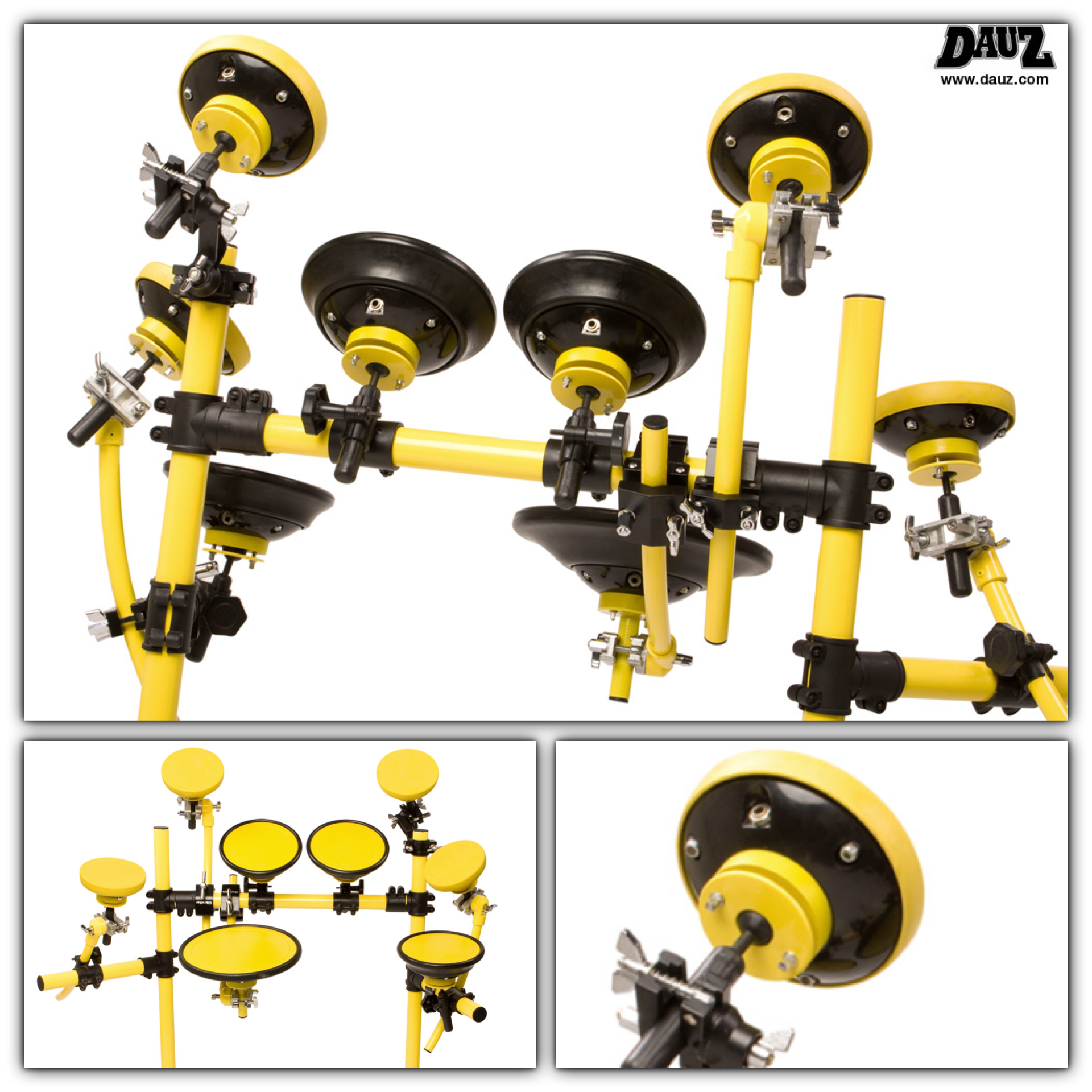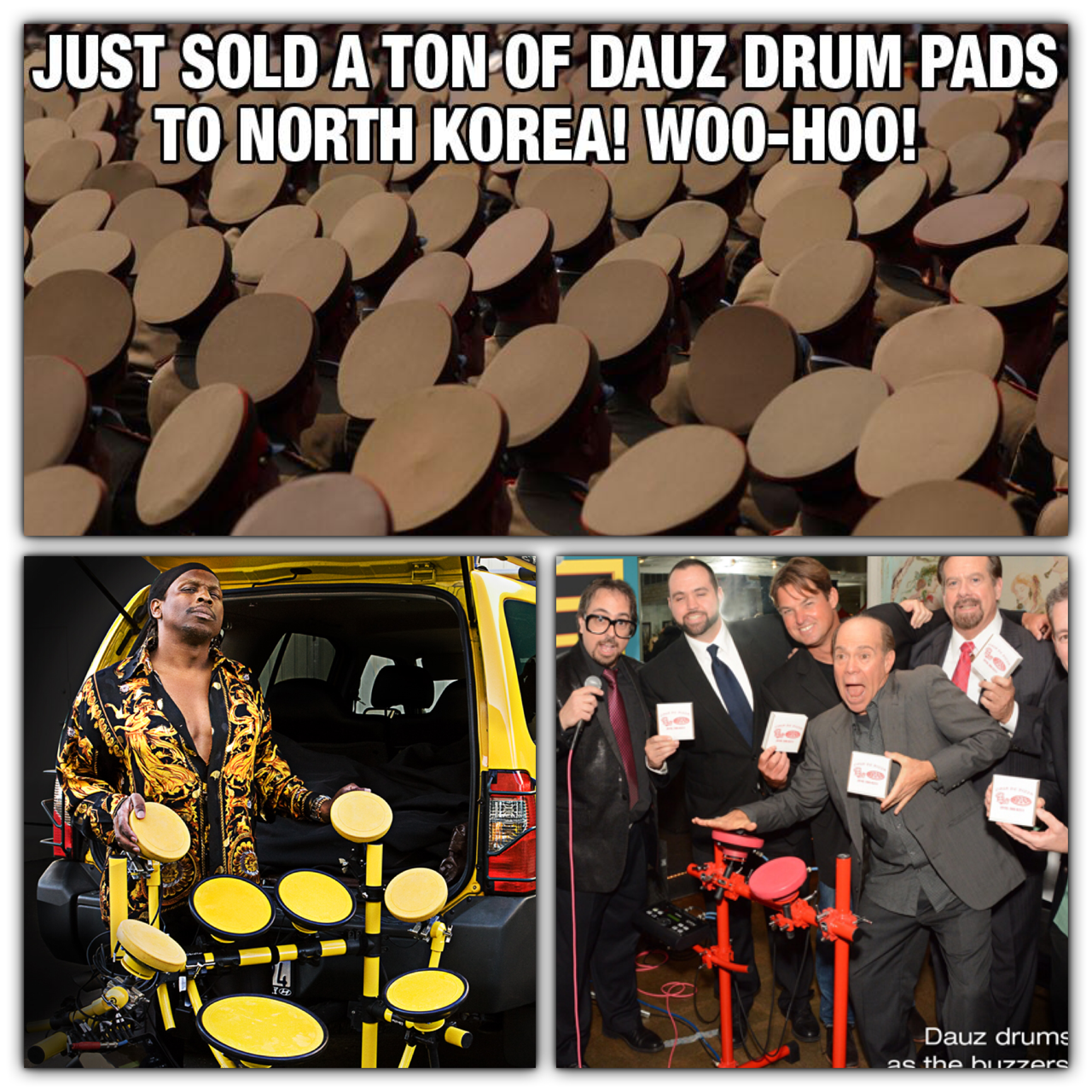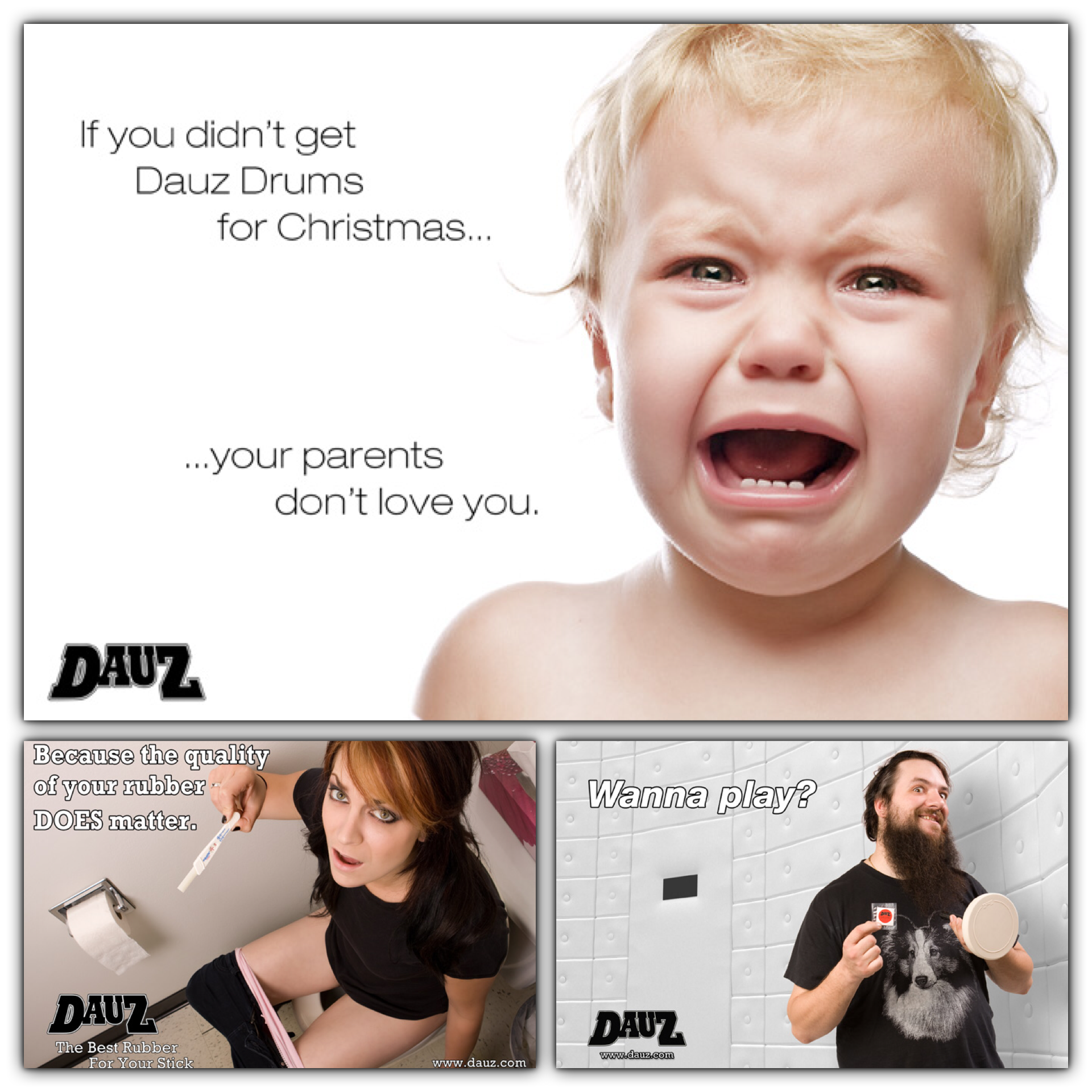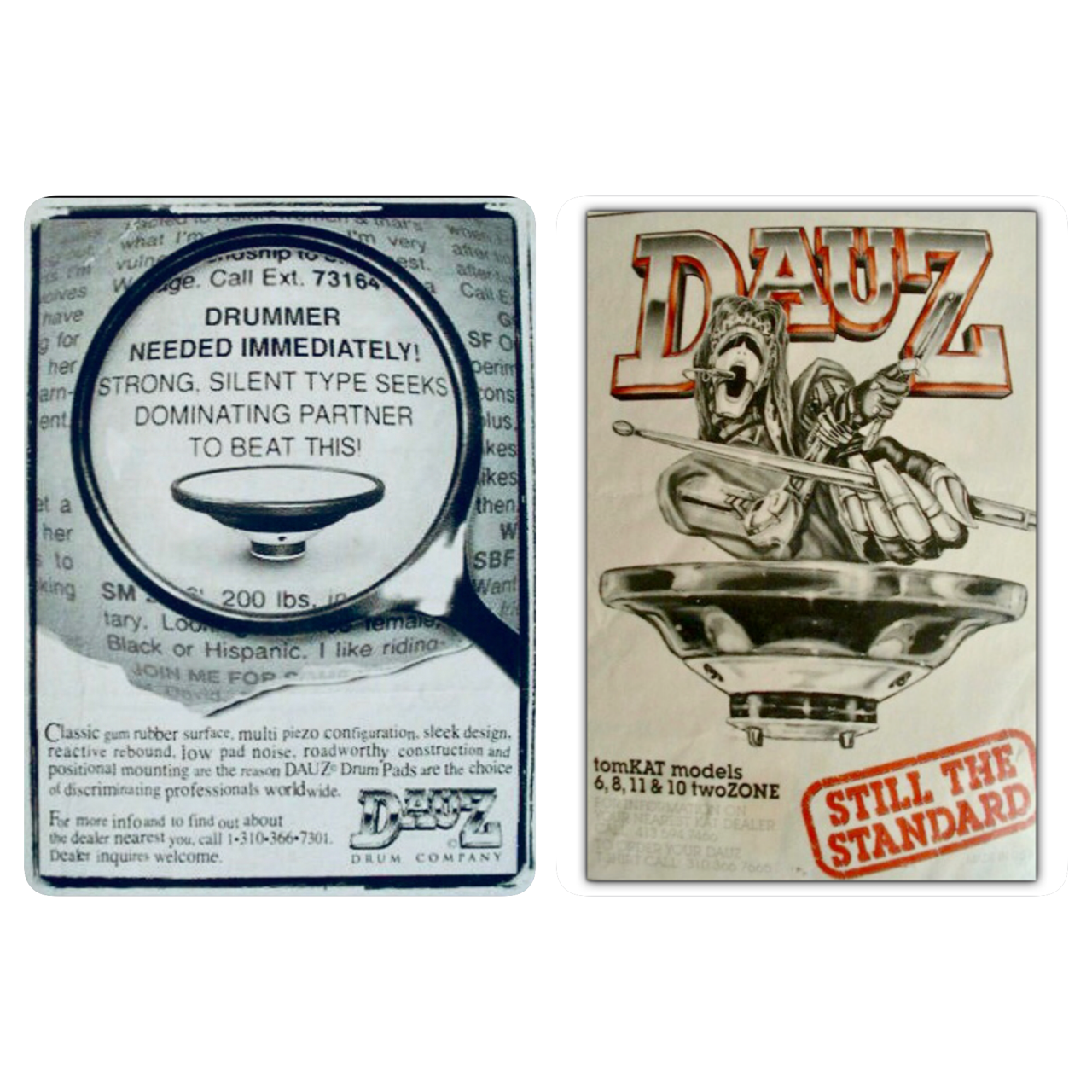 THE STORY OF OUR RUBBER
Prior to 1986, Dauz had been manufacturing his drum pads in various forms. When the Rogers drum company went out of business, Dauz found the their version of Ludwig's Billy Gladstone practice pad existing mold and began making pads with the parts it produced and researching chemists capable of producing the best possible rubber surface for drummers.
As fate would have it, Dauz eventually identified a small rubber manufacturer in Southern California that was owned and operated by a chemist named Norman Stingley. Two decades earlier, as an ambitious young experimenter in 1964, Stingley had compressed a synthetic rubber material under 3,500 pounds of pressure to create a small bouncing ball with unprecedented resilience.
Stingley's invention became known as the Super Ball, and was picked up by Wham-O Manufacturing Co. The Super Ball joined the Wham-O family of products including the Hula Hoop and Frisbee.
Dauz rubber has been sourced from the Stingley family ever since. The tweaking and experimenting never stops, and the Dauz pads continue to be hailed as the best electronic drum pads in the world.