WELCOME
to Dauz drums home of some of the best electronic drum pads ever made. The best kept secret in the drum industry. We have been making quality drum pads for over 35 years for the most demanding professional drummers and biggest tours. Many have never heard of our products, they are not sold in your local store with the offerings from Roland,Yamaha,Alesis ect. Don't be fooled by that. The cosmetics,flexibility,quality,durability and proven track record far exceed any drum pads you might have seen in the past.
While we are not a big corporation our products dwarf the offerings of the biggest companies. Our products have been in constant demand by the most high profile discriminating players. We cater to the most educated performers that know what really matter in a product that takes continuous abuse. There are many choices of drum pads these days, if you want the best you have come to the right place check out what we offer. These pads will last you a life time and they are a joy to play. Join the Dauz drum family with some of the most famous drummers for over 3 decades.
SOLID REPUTATION PROVEN HISTORY
The Dauz drum company has been making quality electronic drum pads since 1985. Built with the player in mind.From the stage to the studio, Dauz drum pads are a recognized leader in quality electronic drum pads.
MADE IN THE U.S.A.
Every Dauz drum pad is manufactured in America by Americans. We pride ourselves on using only the highest quality materials manufactured in Southern California.No cheap imports stuff here. Just quality electronic drum pads that are built to last and made right here in the U.S.A.
BEST RUBBER FOR YOUR STICK
Dauz drum pads are made of a resilient gum rubber, providing you with quiet response and natural rebound. They are durable, proven to take a beating beyond belief, and will last you a lifetime.Plus, they look good and they just feel great to play.
ACCESSIBILITY AND MOUNTING
Dauz drum padre the only drum pad that mount from the bottom providing maximum positioning flexibilty with our swivel stem ball and socket mount as fellas our sandwich mount allowing you to cluster them closer to one another
STYLE AND INNOVATION
Dauz drum pads are the only drum pad that come in multiple sizes styles and custom colors. We offer single, double mounting options well as our Bone rim mount which attaches directly on the rim of any drum from 8" to 18"..
UTILIZED BY THE BIGGEST TOURS
Dauz drum pads are road tested and tough. They have been selected for the biggest tours including Pink Floyd, Rush, Yes, ELP, NIN, KMFDM, Jethro Tull, Spice Girls, Micheal Jackson, Madonna, Paul McCartney, Janet Jackson, Whitney Houston, Phil Collins, Annie Lennox, Heart, Billy Idol, The Village People, Justin Timberlake, Bebe Rexha, Machine Gun Kelly, Black Bear, TLC, Mary J Bleige, Collie Buddz, J-Lo, Stevie Wonder, Queen Latifa, Kelly Clarkson, Platinum Blonde, Pink, Lauren Hill,Damion Hall, Guy, Eminem, John Mayer, Gwen Stafani, Lorde, Jack White, and many more.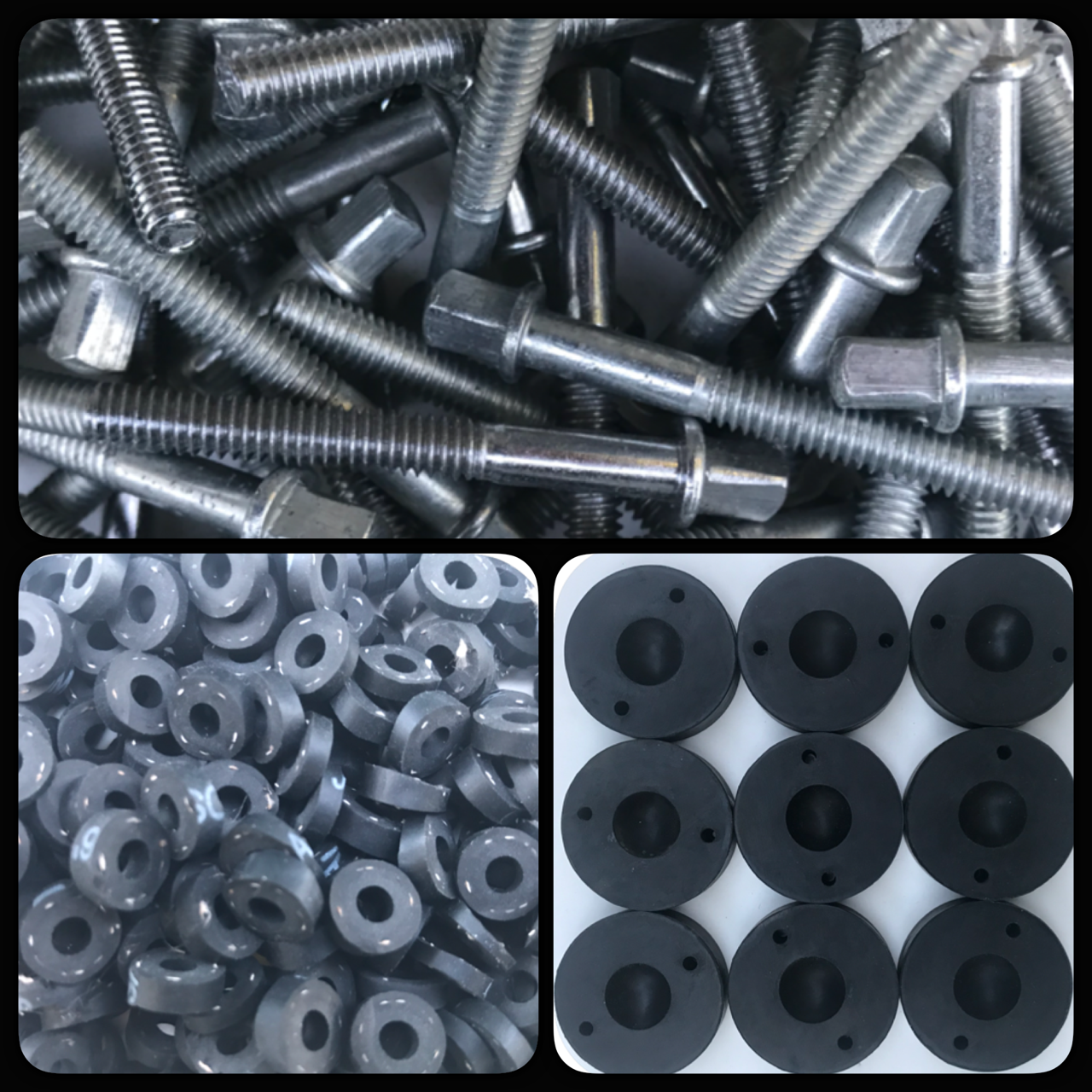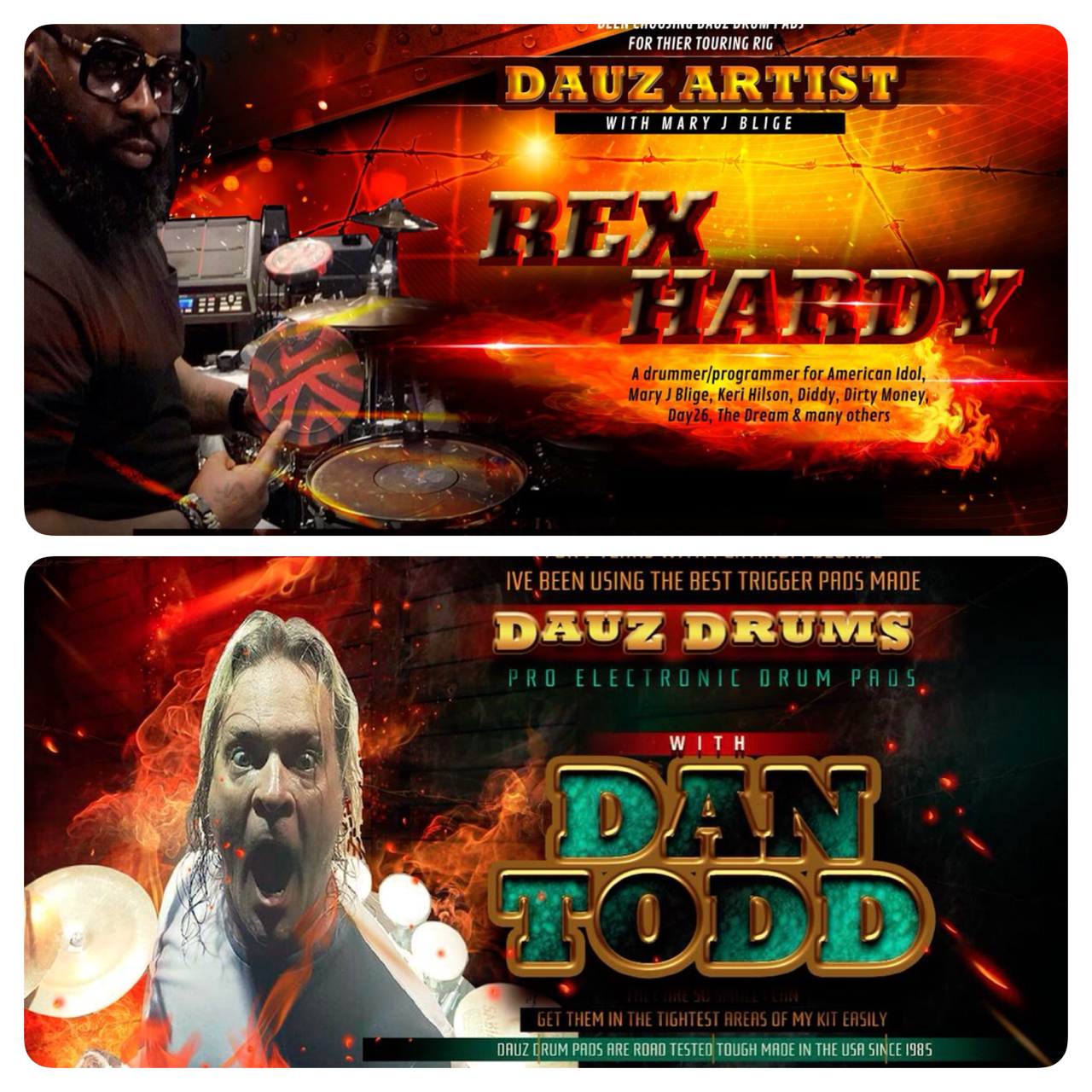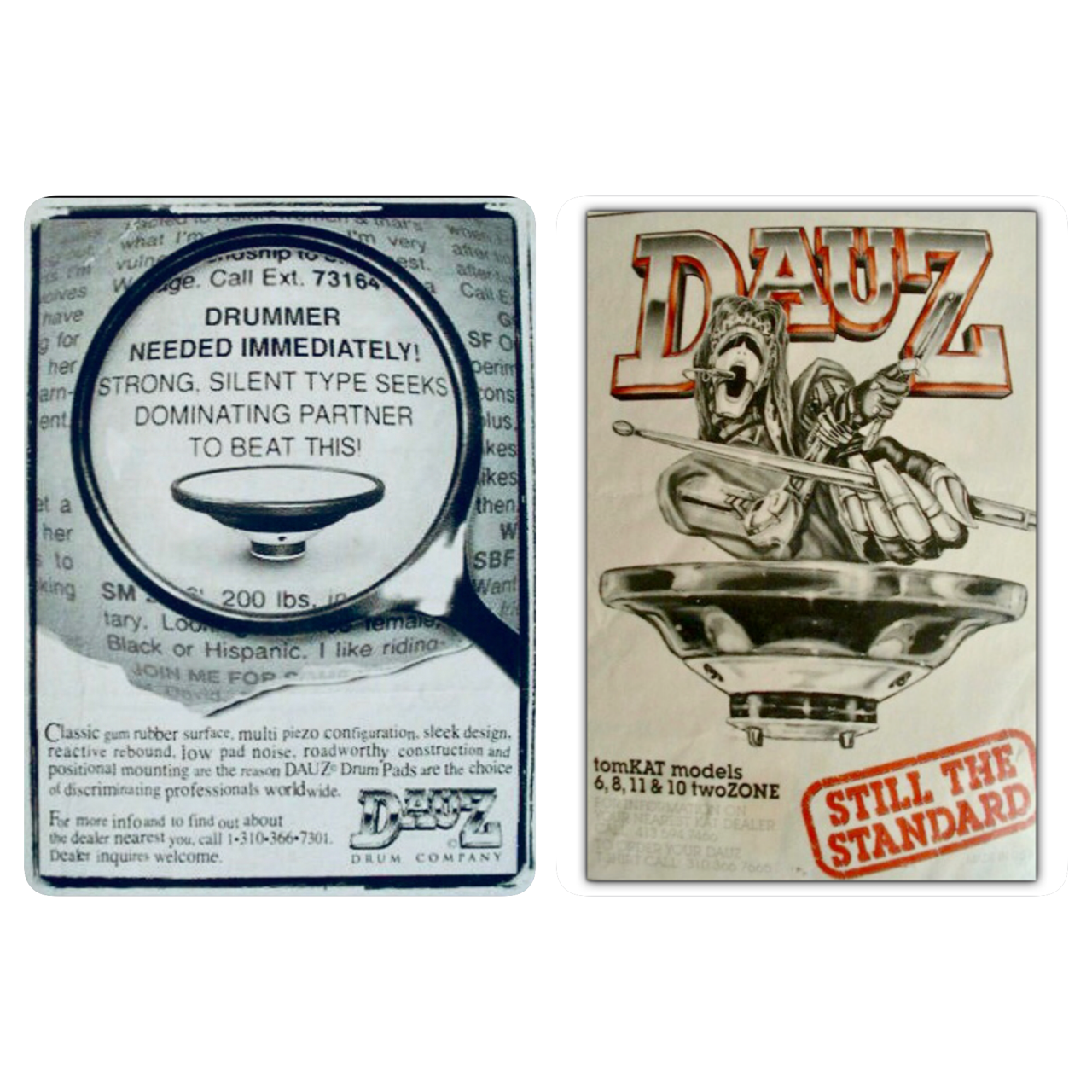 The Dauz rubber has a history.
In 1986 Dan Dauz stumbled on to a small Rubber manufacturing company in Southern California. Looking for ways to increase the flexibility of his drum pad designs. They had been manufacturing the Rodgers version of the Gladstone practice pad, Rodgers had just gone out of business and there mold was left there. Dauz looking for a more productive way to create a great feeling durable playing surface started incorporating this part in designs he was working on. Thru the years the formula has been optimized for the best playing surface for drummers. There is more of a back story here.
Dauz was dealing with the second generation of a famous Rubber maker the son of the inventor of the SuperBalll. Proud father of the bouncing baby ball was a California chemist named Norman Stingley. In his spare time, he compressed a synthetic rubber material under 3,500 pounds of pressure per square inch and created a ball with unprecedented resilience
Wham-O Manufacturing Co., the miracle-working maker of the Hula Hoop ® and Frisbee ® disc, bounced back into the news in 1965 with an explosive knob of rubber called Super Ball.® Dropped from shoulder level, a high potency Super Ball snapped nearly all the way back; thrown down, it could leap over a three-story building; flung into a wall with spin, it kicked back with remarkable reverse English. The supercharged sphere, about the size and color of a plum, was America's most popular plaything in the summer and fall of 1965. By Christmas, just six months after it was introduced by Wham-O ®, seven million balls had been sold at ninety-eight cents apiece.
Dauz has been working with this famous Rubber making family ever since. Always tweaking and experimenting making his rubber drum pads whats come to be known as the best electronic drum pads in the business.